DICElib
DIstributed CAVE Engine
About| News| Screenshots| Download| Links
About
DICElib is an effort to ease the use of clusters to drive applications that need constant synchrony, such as graphical applications, CAVE systems, etc. The library's main features are:
synchronization;
shared memory, which can be synchronous or asynchronous;
transparent functions (same function may do different things in different clients);
implemented with sockets, uses TCP/IP.
The API is simple, clean and easy to use. It works in Linux, IRIX and Windows (with Cygwin).
News
January 02, 2002

Initial public release.
Screenshots

DICElib in Linux and VMware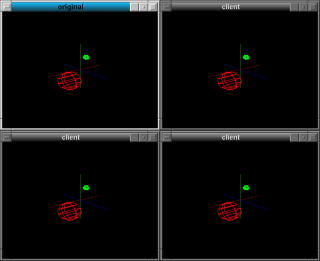 DICElib synchronization
Download
Version 1.0.2
Source code (tar.gz)
Version 1.0.1
Source code (tar.gz)
User guide (HTML)
User guide (postscript)
Reference guide (HTML, generated from source code)
Links
If you write an application that uses libdice, please email me and I'll add a link here.
---
Contact the author: Bruno Barberi Gnecco