Project Phases
phase I : Infrastructure for Auralization in VR (Aug/2004 to Mar/2005)
[ Concluded ]
basic infrastructure (acquisition of audio server and multichannel soundcards; installation of speakers, amplifiers and cabling; loudspeaker support system; microphones and headphones)
basic hardware/software installations (installation of audio server, gear rack, boards and patches; installation of basic software, drivers and libraries and multichannel software; tests)
development software installation (DSP; high level compilers; software for edition, sequencing, control and route of digital audio; patch-oriented development platforms; multichannel setups; graphical music programming; codecs and plugins; software and libraries for management and inter-node communication; libraries and gear for sound synthesis and acoustics; general apps; tests)
acoustic setup (hw/sw integration; preliminary tests and acoustic measurements; patch setups and preliminary calibration)
acoustic treatment (acquisition/installation of additional equipment for acoustic conditioning; adaptations; design of schemes for active control and equalization of listening are inside the Digital Cave) (partially concluded)

phase II : Auralization with Ambisonics Sound fields (Aug/2004 to Jul/2005)
[ Concluded ]
research and development of a system for first order Ambisonic coding/decoding
development of navigators and user interfaces integrated to VR tools in the Digital Cave
projeto de integração de componentes de software para comunicação inter-processos e inter-nós (passagem de comandos, streaming, controle, sincronização)
development and/or integration of modules for description, simulation and rendering acoustic scenes (acoustic model)
specific applications (virtual acoustic environment modeling in specific applications)
design and first implementation of an AUDIENCE software distribution for spatial (2D/3D) audio production, processing and projection in 4 layers.
Digital Cave and the cubic loudspeaker array positioning for soundfield projection
phase III: Higher Sound Immersion Levels (Apr/2005 to Dec/2006)
[ Concluded ]
design and development of a system version for higher sound immersion levels, exploiting higher order Ambisonics (HOA) and prospective research towards systems based on wave field synthesis (WFS) (partnership with other institutions)
development and release of an AUDIENCE spatial audio software distribution, totally written for PD (*)
development of loudspeaker array systems and multichannel reproduction systems (partnership with companies)
preliminary designs of an interactive auralization system for WFS use, addressing advanced applications in virtual reality and home-theater (partnership prospection)
adaptation and improvement of acoustic models for higher sound immersion levels (focus on acoustic simulator upgrades)
development and/or adaptation of multichannel soundboards, circuitry (hardware) and software for driving dense loudspeaker arrays (**)
specific applications (high coupling with visualization and realistic audiovisual rendering) (***)
(*) an version open for colaborative development is publicly available, launched in the associated project OpenAudience at the FAPESP project incubator.
(**) a multichannel amplifier with 8 outputs (P10 connectors) was developed in colaboration with SANKYA Electronics.
(***) an auralization machine was built for rendering sound scenes of ancient Sao Paulo city, in interactive virtual reality 3D navigation (project in the Digital Cave).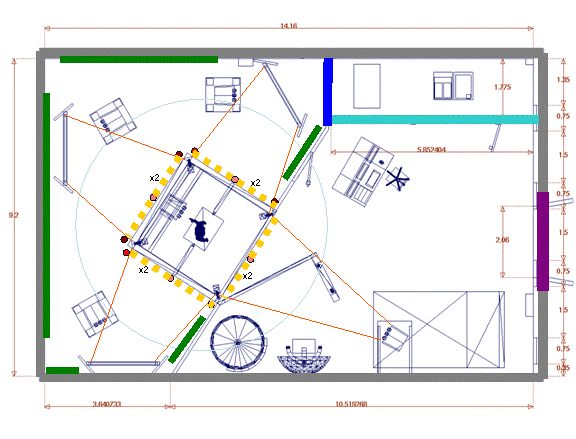 Preliminar conception of loudspeaker arrays for Wave Field Synthesis
phase IV : Low Cost Auralization Systems (May/2006 a May/2007)
[ Concluded ]
activities concurrent with phase III and consolidation of main technological components (software libraries) developed in previous phases
integration of commercial audio codecs into the system (partnership with companies)
integration of transcoding and decoding solutions for surround (partnership with companies)
research and development of mechanisms for synchronization and control of low cost sound cards and chipsets for sound field generation applications
proposing and prototyping low cost multichannel auralization systems
development of open versions of the software (correlated with OpenAudience)